Proceedings of 2nd National Symposium on SRI in India -Progress and Prospects
The second national symposium on SRI is proposed to be held from:
3rd - 5th October 2007 at Agartala in Tripura
The main objectives are:
1. To bring in various field experiences of SRI form the state governments, researchers, civil     society and farmers
2. To identify and discuss constraints and opportunities based on practical experiences, for further expansion of SRI
3. To deliberate on the policy and institutional interventions for increasing the area under rice cultivation with SRI method.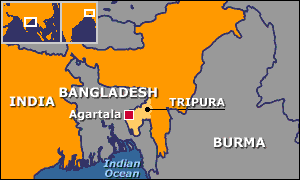 Location

Tripura is a tiny state (10,491 sq. km) in the northeast surrounded by Bangladesh on three sides. The venue at the State Institute of Public Administration & Rural Development (SIPARD) is located near Camper Bazaar at A.D. Nagar in Agartala. It is located about 5 Km away from the Agartala main town and 15 Km from Agartala airport. Several flights in Kolkata - Agartala and Guwahati - Agartala routes operate every day.
Flights schedule to
Kolkata - Agartala - Kolkata
and
 Guwahati - Agartala - Guwahati.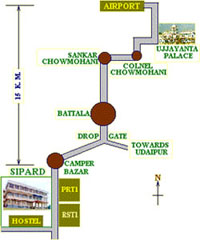 Introduced in 2001, today SRI method is adopted in about 14,000 ha (about 8 per cent of the total paddy area) in Tripura and the Agriculture Department is geared up to reach over 10 per cent in the present year.
A striking feature is that SRI methods have been adopted in large contiguous areas of 30-50 ha covering groups of 20 – 50 farmers. The energetic commitment of field staff and strong political support has enabled fast spread of SRI in Tripura. Hence, it will be appropriate and instructive for Tripura to be the host for a National Symposium to share its estimable work and contribute to current debates on expansion of SRI in India through its own case history.
Read more on
Tripura visit report.
Organising Team
The event is being jointly organised by the Department of Agriculture of the Government of Tripura, the Directorate of Rice Research (DRR), the Central Rice Research Institute (CRRI), the Directorate of Rice Development (DRD), the Acharya NG Ranga Agriculture University (ANGRAU), the National Bank for Agriculture and Rural Development (NABARD), Sir Dorabji Tata Trust (SDTT) Mumbai and World Wide Fund for Nature (WWF)-ICRISAT Dialogue Project based at ICRISAT, Patancheru.