From the 1st to the 3rd December 2008, the Tamil Nadu Agricultural University of Coimbatore hosted this 3rd in a series of symposia dealing with SRI in India, and by extension in the rice-growing world. The Symposium was attended by 350 participants from almost all the states of India and by 15 international participants. Initiated by Dr. Biksham Gujja and Dr. Vinod Goud, the symposia have been supported by the Worldwide Fund for Nature (WWF) through its Dialogue Project on Food, Water and Environment with ICRISAT, the International Crop Research Institute for the Semi-Arid Tropics. Sir Dorabji Tata Trust (SDTT), Mumbai, the National Bank for Agriculture and Rural Development (NABARD), Mumbai, and the National Food Security Mission (NFSM), Delhi, deserve a special mention for the support they extended to the 3rd National.
To know more on the Symposium, read SRI Newsletter Issue 4.
Tamil Nadu, which has been playing a vital role in research and promotion of SRI practices in cultivation of rice in the recent years, will project and share its estimable work and contribute to current debates on expansion of SRI in India through its own case history.
Rice in Tamil Nadu is widely cultivated in over 21 lakh ha in 28 districts with an annual production of 80-85 lakh tonnes and an average yield of 4 t/ha. During 2007-2008, SRI methods have been applied on 4.2 lakh ha - about 20% of the total rice growing area.
About Coimbatore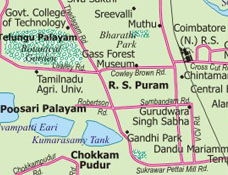 Coimbatore City (Kovai) is one of the top 10 fastest growing cities of India with a population of about 14.62 Lakhs (Census in 2001). It is situated on the banks of river Noyal, a tributary of river Cauvery. It has a pleasant, salubrious climate; the temperature varies between 40°C in summer to 14°C in winter months. People of Coimbatore are cosmopolitan and talk Tamil (main language), English, Telugu, Malayalam and Hindi. 

Coimbatore is well connected by Road, Rail and Air. It has three railway junctions (terminals) - Coimbatore Central, Coimbatore North and Podanur (15 KMs). There are everyday trains to major cities. The city has an airport (Coimbatore Airport) at Peelamedu (11 km from the city) and is well connected to all major metropolitan cities in India. In Coimbatore city, economical call taxis are available as in any other part of the country.
Organising Team
The event is being jointly organised by Tamil Nadu Agricultural University (TNAU); Department of Agriculture, the Government of Tamil Nadu; Department of Agriculture, the Government of Tripura, the Directorate of Rice Research (DRR); the Central Rice Research Institute (CRRI);the Directorate of Rice Development (DRD); the Acharya NG Ranga Agriculture University (ANGRAU); the National Bank for Agriculture and Rural Development (NABARD); Watershed Support Services & Activities Network (WASSAN); Sir Dorabji Tata Trust (SDTT) Mumbai and World Wide Fund for Nature (WWF)-ICRISAT Dialogue Project based at ICRISAT, Patancheru.